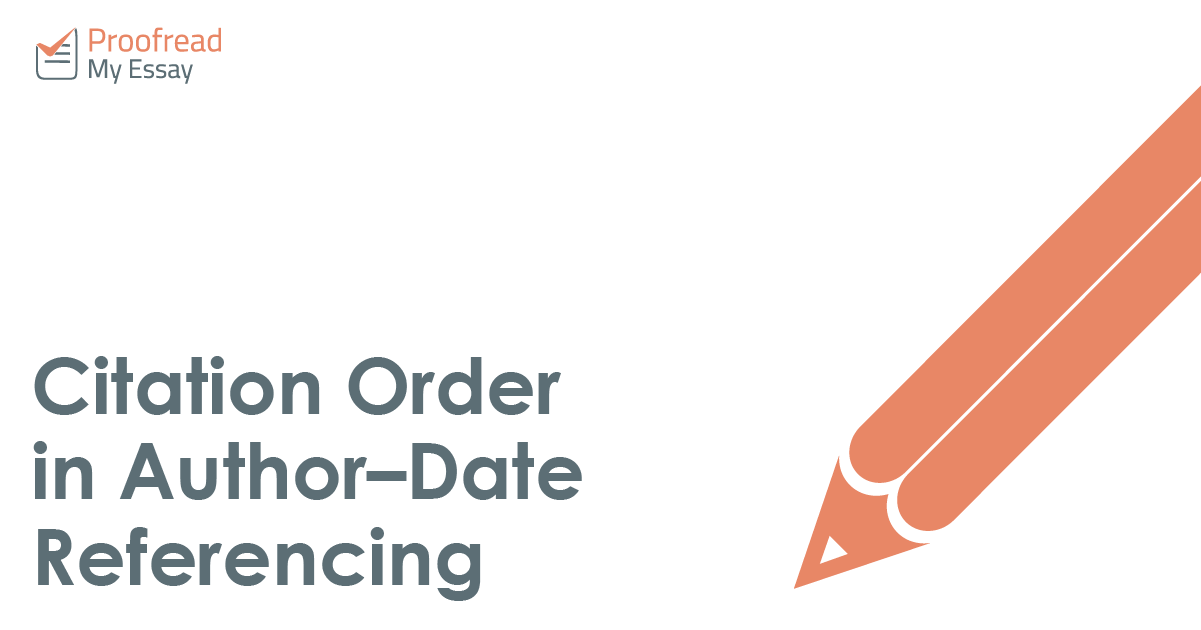 Citation Order in Author–Date Referencing
We cite sources to support our arguments in academic writing. Logically, then, to add extra support to an argument you need to cite more sources. But how do you do this in practice?
The exact answer depends on the referencing system you're using. But there are some guidelines every student should know. In this post, we provide an overview of citation order and how to cite multiple sources in author–date referencing.
When to Cite Multiple Sources
Author–date referencing (otherwise known as parenthetical referencing) involves citing the name of the author and the date a source was published in the main text of your document. Systems that use this style of referencing include APA and Harvard referencing.
Usually, an author–date reference will include one name and one date:
Past studies were inconclusive (Smith, 2001).
And, generally, one source is enough! But if you're making a claim about several cases or a general consensus, citing multiple sources can help. For example, the sentence above mentions multiple 'past studies', but it only gives one citation. It would be stronger in this case to site multiple sources.
However, it's vital that every source you cite supports the same point! If you're trying to make several points in one passage of text, cite each source separately.
Citation Order: Same Author, Multiple Sources
Citation order determines how sources are listed when citing more than one source in the same place. This is simple if all of the sources are by a single author, as you just give them in order of publication:
Past studies were inconclusive (Smith, 2001, 2004, 2011).
Find this useful?
Subscribe to our newsletter and get writing tips from our editors straight to your inbox.
Here, for example, the citation includes three studies by Smith from separate years. These would then be listed separately (with full publication information) in the reference list at the end of the document.
Finally, a quick note on MLA referencing: this system does not include a year in citations, so you need to use a shortened source title instead when citing multiple sources by one author.
Citation Order: More than One Author
Things get trickier when citing multiple sources by different authors. Most referencing systems suggest using a semicolon to separate authors. But the order in which they're cited can vary. Many systems, including APA and Chicago referencing, recommend listing sources alphabetically in citations:
Past studies were inconclusive (Abbott, 2016; Smith, 2001; Xing & Li, 1999).
The advantage here is that the citation order matches the reference list (where you list sources alphabetically by author surname). However, some versions of Harvard referencing list sources by year of publication. In this case, you would cite the same sources as follows:
Past studies were inconclusive (Xing & Li, 1999; Smith, 2001; Abbott, 2016).
It is therefore a good idea to check your style guide for advice on citation order! You can also find the rules for some systems online. If you can't find any specific guidance, simple pick one approach (alphabetical order or by year) and use it consistently.
Expert Academic Proofreading
To make sure your references are always clear and correct, submit your work to our expert academic proofreaders. Get your first 500 words checked for free today.
More Writing Tips?
Studying in your student accommodation isn't always ideal, but we can't all be like Kylie...
Trusted by thousands of leading
institutions and businesses