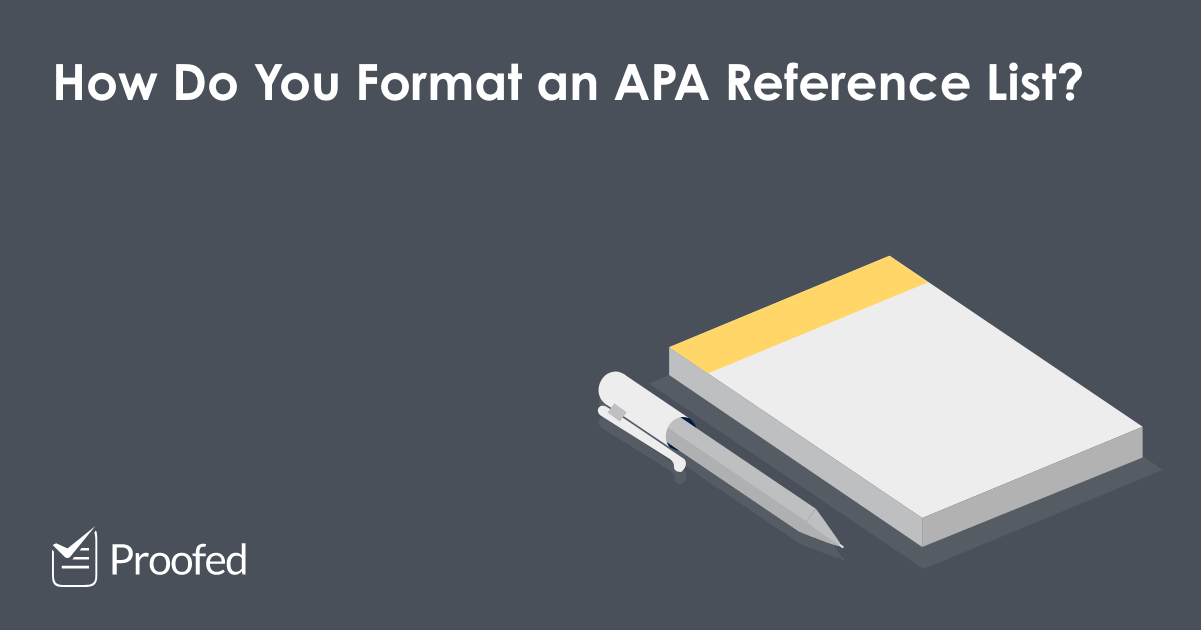 How to Format a Reference List in APA Referencing
Have you been asked to use APA referencing in an essay or dissertation? Then you'll need to know how to format an APA reference list. Check out our guide below to find out how to format a reference list in APA.
What Is APA Referencing?
APA referencing is the citation system set out in the Publication Manual of the American Psychological Association, 7th edition. In the main text, this system uses bracketed author–date citations, like this:
Formatting a reference list can seem difficult (Smith, 2020).
Every in-text citation will then point to an entry in a reference list at the end of your document. This is where you provide full publication information for the sources you have used in your research.
How to Format an APA Reference List
All APA reference lists should follow a standard format. The key rules are:
Start your reference list on a new page titled 'References'.
List every source cited in your work alphabetically by author surname.
Invert authors' names so you give their surnames first.
Give the surname and initials for all authors for works with up to 20 authors. For works with more than 20 authors, list the first 19, then give an ellipsis followed by the surname and initials of the last listed author.
If referencing more than one work by a single author, arrange them from the earliest to the most recent (e.g. if you cite Smith 2017 and Smith 2020, list the 2017 text first). If you have two sources by the same author from the same year, add a letter after the year of publication in each source to help readers tell them apart (e.g. Smith 2020a and Smith 2020b).
Use sentence case for titles of all sources except journals (i.e. capitalise only the first word of the title and subtitle plus proper nouns).
For journal titles, capitalise all major words.
Always give journal names in full rather than using an abbreviation.
Italicise the titles of longer works such as books and journals.
Do not use italics or quote marks for titles of shorter works.
For entries that spread to more than one line on the page, use a 0.5 inch (1.27cm) hanging indent for each line after the first.
Reference List Formats in APA
The format for entries in the reference list will depend on the source type. However, there are typically four key components to an APA reference:
Find this useful?
Subscribe to our newsletter and get writing tips from our editors straight to your inbox.
The author's name
The year of publication
The source title
The name of the publisher
For example, we would list a book as follows:
Smith, J. (2020). Understanding APA: A guide for beginners. PI Publications.
For information on how to reference other source types in APA, see our blog.
Expert Student Proofreading
Hopefully, the advice above will help you format your APA reference list correctly. But if you get your work proofread, as well as checking for typos, our editors will make sure your referencing is always clear, correct, and consistent. Submit a document today to see how this works.
More Writing Tips?
In today's digital age, engaging and interactive presentations are a great way to capture your...
Trusted by thousands of leading
institutions and businesses