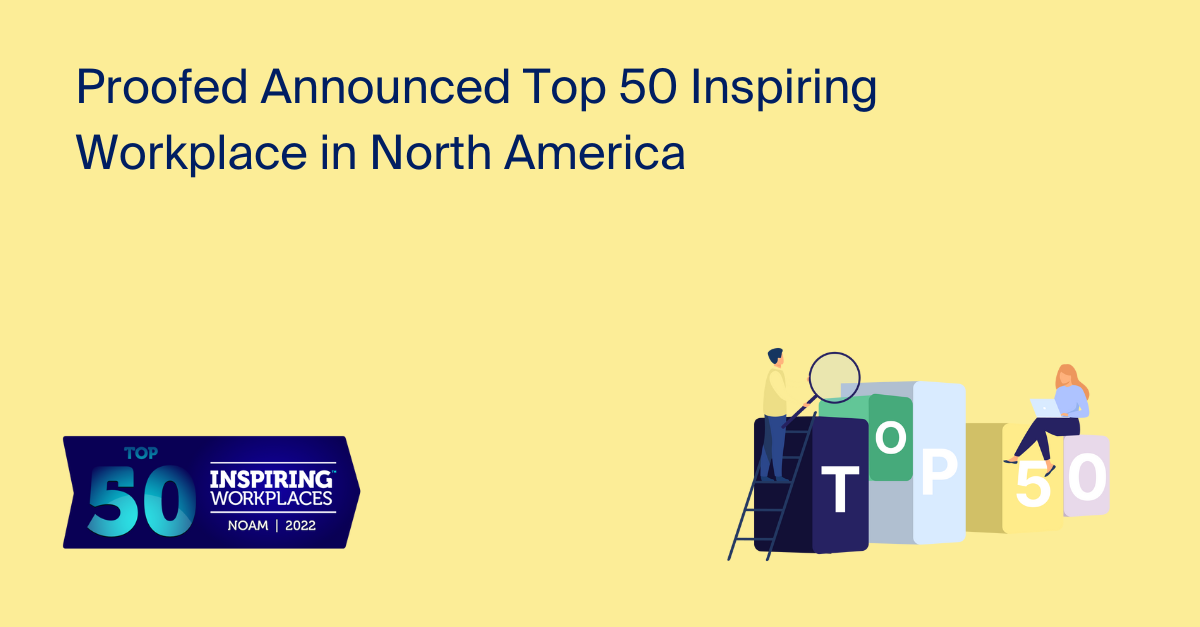 Proofed Announced Top 50 Inspiring Workplace in North America
Top 50 list announced at June 22nd Inspire Work Summit.
We're officially one of the top 50 inspiring workplaces in North America!
The complete list of top 50 organizations, selected by an independent panel of judges, was announced on June 22nd at the Inspire Work summit in New York.
We shared 39th place with Couchbase, sharing the list with major names such as Union Pacific, PepsiCo, Ocean State Job Lot, and Blue Shield of California.
Inspiring Workplaces honored us in the category of inclusion, a value deeply cemented in our workplace culture. We're proud to offer consistent, rewarding, high-paying work to individuals who may otherwise struggle to access quality employment, whether due to location, age, physical ability, or gender. To become an editor at Proofed, candidates must complete a training course and score over 80% on the final test. This allows anyone, no matter who they are or what they have done previously, to become a Proofed editor in as little as 50 hours.
Our inclusive hiring policy and equitable operations strategy are reflected all the way up through senior management. Our operations team is 50% female, and many of us are parents, with our core team based in 13 different countries. If you're passionate about writing, grammar, and communication, we're proud to have you work with us, regardless of background or personal circumstances.
Find this useful?
Subscribe to our newsletter and get writing tips from our editors straight to your inbox.
Appearing onstage to collect the award, Josh Pizzaro, our director of the board, stated:
"I'm honored to accept this award on behalf of the Proofed team. As we're growing the company rapidly, we're also committed to building it the right way – by putting people first. We're continuously focused on our people and culture to ensure Proofed is an inspiring place to work for all our colleagues."
To view the complete list of the top 50 organizations, click here.
Congratulations to everyone on the list for their efforts in creating workplaces that value inclusion, communication, leadership, wellbeing, purpose, and experience. Finally, another big thank you to the Inspiring Workplaces team and everyone on our team for working tirelessly to make Proofed an inspiring place to work.
More Press Releases?
AI-generated content is here and it's revolutionizing content production. But getting that content reviewed and...

How do you get 100 editors to make more than one million words of content...

We're thrilled to announce that we've won the Excellence in Onboarding award at the Talent...

Proofed has made it to the finals of the Talent Acquisition Awards in two categories....

Proofed is delighted and humbled to announce that it has been featured on the 2022...
Trusted by thousands of leading
institutions and businesses