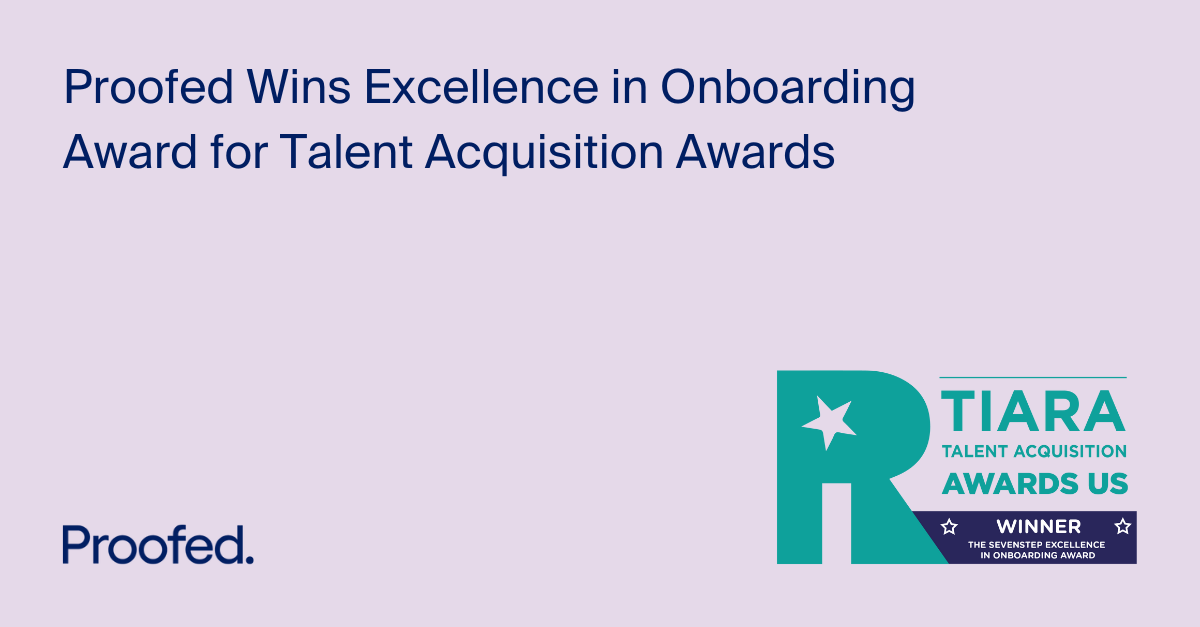 Proofed Wins Excellence in Onboarding Award for Talent Acquisition Awards


We're thrilled to announce that we've won the Excellence in Onboarding award at the Talent Acquisition Awards this December.
The Excellence in Onboarding Award category champions businesses that deliver innovative, creative, and clever onboarding processes for new employees.
One of the contributing factors to Proofed's win is its recruitment process, which doesn't include interviewing. An editor who scores 80% or higher through Proofed's comprehensive and accessible Knowadays course is automatically given a position at the company.
Of the win, our founder and COO, Kiran Chauhan, said: "It was such a delight to win this award – it's a testament to the hard work that the Proofed team delivers day in and day out.
"But our work doesn't finish here. This award has only renewed our commitment to maintaining and developing an outstanding onboarding experience at Proofed. Creating the best welcome processes for the talent we hire is of the utmost importance to the business.
"Without our team, our work wouldn't be possible, and we're so grateful to all of them. So, here's a thank you to our team. We promise to keep working hard to ensure our new recruits experience the best onboarding process in the business and provide an excellent professional environment for all of our employees."
The awards ceremony took place on December 1st at the Atlanta Marriott Marquis. The Talent Acquisition Awards are an annual event hosted by TIARA that acknowledges businesses that display a world-class approach to talent acquisition and resourcing.
We're also proud to have been a finalist in the Relode Early Careers Pioneer category.
About Proofed
Find this useful?
Subscribe to our newsletter and get writing tips from our editors straight to your inbox.
We're a proofreading and editing company that gives businesses and individuals access to some of the most highly trained editors across the world.
Businesses can hire editors through us to ensure that their external and internal content is accurate and on-brand, removing the time needed for hiring and managing the editorial team.
Individuals can use us to assess editors to work on essays, presentations, reports, novels, blog posts, and much more.
We boast upwards of 750 editors spanning numerous continents, meaning we offer a 24/7 service to our clients.
The company was founded by Kiran Chauhan and Adam Harvey in 2017 and is trusted by thousands of leading businesses and institutions, including Fortune 500 companies.
Contact
For further information, comments, or images, please email info@proofed.com or call +1-888-851-8179.
More Press Releases?
AI-generated content is here and it's revolutionizing content production. But getting that content reviewed and...

How do you get 100 editors to make more than one million words of content...

Proofed has made it to the finals of the Talent Acquisition Awards in two categories....

Proofed is delighted and humbled to announce that it has been featured on the 2022...

Top 50 list announced at June 22nd Inspire Work Summit. We're officially one of the...
Trusted by thousands of leading
institutions and businesses